Do Homeowners Need to Call a Professional for a Minor Water Intrusion?
2/1/2021 (Permalink)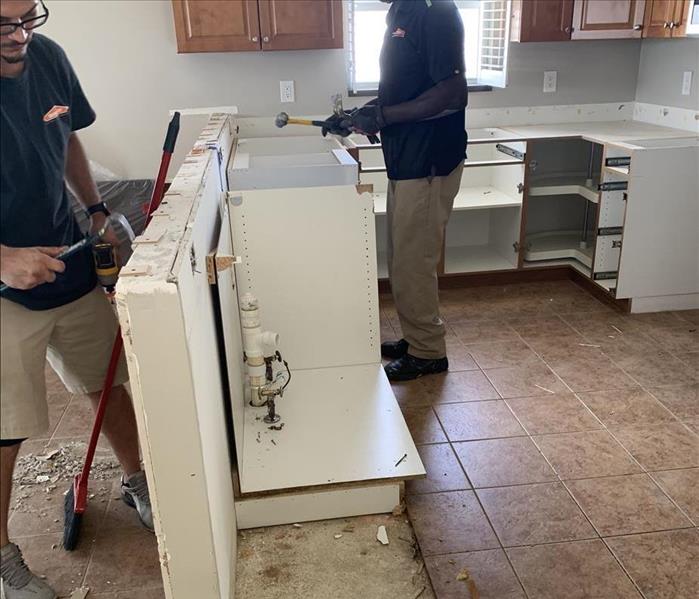 Water damage can be very harmful to you and the family. SERVPRO technicians are trained and ready for any size water damage restoration needed.
Hidden water can cause secondary damage to your Seminole home if not properly mitigated.
In this situation, a washer hose came loose, causing water to pour out rapidly. The water was shut off quickly, and the damage seemed minimal.
Hidden Damage
While the homeowners could clean up much of the water, they could not remove what they cannot see. Professional water restoration in Seminole is advised at this point.Moisture can seep under floorboards, carpet, and behind cabinets. When water moves beyond the initially impacted area, it can cause further damage. Moisture moves in several ways:
Air movement
Liquid flow
Capillary suction
Vapor diffusion
Stopping the Moisture Movement
It is critical to stop the water flow. SERVPRO technicians can trace the action taking place and provide the needed water mitigation. The crew uses several water restoration methods to restore your home, including:
Water extraction
Handling wet material correctly
Drying the home
Restoration
It is never smart to wait when there is a water intrusion. Secondary damage, such as mold, can take place rapidly. When homeowners work with a professional team like SERVPRO, they know the job gets done right.
Contact SERVPRO of Seminole & Central Gulf Beaches at (727) 391-6212 for all your water restoration needs.